Bob Wigley is another businessman for whom the corporate boardroom appears to be a natural habitat.
He is Chairman of Expansys, Stonehaven Associates and Yell Group. Between 2008 and 2009 Bob was Chairman of Sovereign Reversions plc.
Expansys is an online electronics store selling mobile phones, sat navs, laptop tvs etc.
Yell Group own and produce Yellow Pages and the yell.com web site.
Stonehaven LLP is a recruitment and personnel advisory firm. They are focused on boardroom and senior level recruiting and management assessment in the Corporate, Institutional and Financial Services sectors.
Sovereign Reversions operate in the equity release market, convincing retired people to borrow money using the equity in their property as collateral. This means that Sovereign can pick up the property cheap later.
This is how this practice is described on Sovereign's web site.
Sovereign Reversions buys property assets at a discount to vacant possession value. It benefits from the elimination of this discount when the homeowners leave their home or die, and from the long term appreciation of property values.
They actually boast about the 'discount' and 'benefits' they get when people move into care or die. I thought I had found a sick one when I wrote about Nick Prest's arms dealing through Cohort PLC but I think this may be worse.
Bob Wigley was appointed as Ambassador for UK business by the Prime Minister in 2010.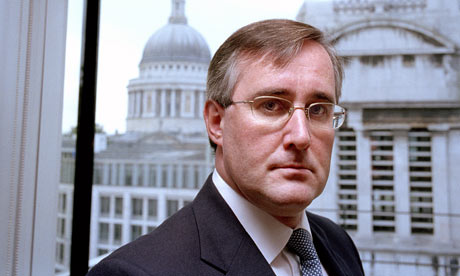 Bob is on the Advisory Board of the venture capital firm Bluegem LLP and is the European Financial Services Operating partner of the venture capital firm Advent International. Bob is the former chairman of Merrill Lynch EMEA (Europe, the Middle East and Africa). He held a number of management positions at Merrill Lynch, serving from 2003 to 2004 as chairman of EMEA Corporate Banking, global co-head of Telecom and Media Investment Banking in 2002, co-head of U.K. Investment Banking in 2001 and co-head of Corporate Broking in 2000. He was educated at Exeter School and the University of Bath. He is also a Fellow of the Institute of Chartered Accountants and of the Royal Society of Arts, Manufactures and Commerce.
He is Chairman of the National Education Employer Partnership Taskforce. He is Chairman of the Green Investment Bank Commission and on the International Advisory Council of the International Centre for Financial Regulation. He is a member of the Advisory Board of Cranfield School of Management's Doughty Centre for Corporate Social Responsibility, the Advisory Council of Business for New Europe and is a Visiting Fellow of Oxford University and Chairman of Oxford University's Centre for Corporate Reputation. In 2008, he chaired a panel of leading London financial services company CEO's for the incoming Mayor of London, Boris Johnson producing a major report on how to maintain London's competitiveness in global terms for the decade ahead and as a reward now sits on the Mayor's Panel of Economic Advisers and the Advisory Council of TheCityUK. He is a Fellow of the Royal Society of Arts, Manufactures and Commerce and is Master of the Court of the Worshipful Company of International Bankers. He is a Fellow of the Institute of Chartered Accountants and has a business degree and an honorary doctorate from Bath University.
On 18th October, Bob Wigley signed an open letter calling on the Chancellor to continue the coalition government's plans to reduce the public finance deficit in one term, plans which included swingeing cuts on the poorest members of society and which risk pushing this country into a double-dip recession, the likes of which has not been seen since the last time the tories took power and tanked the economy in the early 80's.
For this reason Bob Wigley is considered a fully signed up member of the Big Business Society and we urge people to boycott Expansys, Stonehaven Associates, Yell Group. There are lots of recruitment agencies out there, just steer your personnel people in other directions.
This post marks the completion of the entries on each of the companies represented on The Offending Letter of 18th October. These posts will now be revised, improved, clarified, have sources added and linked to, kept up to date with any new information that comes to light on the companies and the signatories and generally made easier to find and index by search engines on the web using what knowledge of SEO I have picked up over the last decade of working in the online search and affiliate marketing industry.
Please let me know if anything on this site is or becomes out of date or wrong.